Introducing our new Skinny Fit Chino: The IMPERIA Trouser !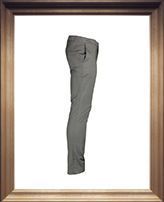 In response to your requests for a modern, slim-fitting chino, our new cotton-stretch Imperia trouser is the perfect option for both ladies and men for any occasion. This comfortable, nicely fitted, easy care lightweight style is available in Black, Beige, Grey and Navy.
The Imperia will make a perfect addition for your on-charter trips as it completes the line of our best-selling styles made in the same fabric as the Miami Trouser, Florida Capri Trouser and Cairo Skort.