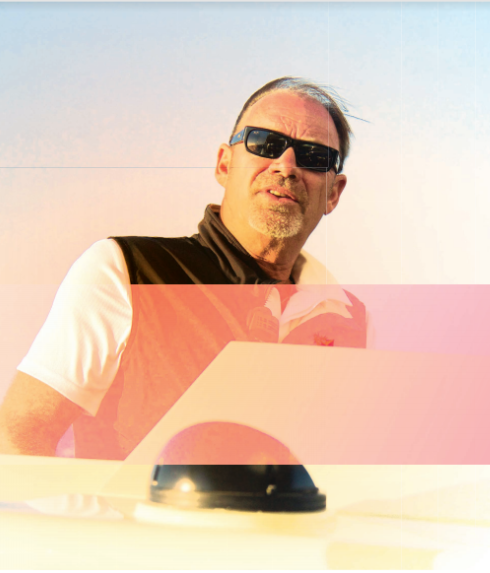 Interview with Pascal Pellet Finat SY TIARA's Captain

A passion for sailing
Born in Paris and still based in Antibes, Captain Pascal Pellat-Finet recalls a 40-year career dedicated to his love of sailing. A double-faceted career that has taken him around the world, starting with racing regattas, including the America's Cup, World Maxi's series, and moving on to world cruises. Now Captain of the exquisite SY 'Tiara' with its 1930's New York-inspired interior, he sails the entire Mediterreanean, the Caribbean, Tahiti, North East of the US , the UK, New Zealand, Costa Rica, Asia etc., ensuring that his guests enjoy top-notch luxury and sophistication. But in his heart, onboard elegance and the discovery of distant lands may well be superceded by the joy of sharing his passion for sailing…
- How has your career evolved over the past 40 years?
P.P.-F. - My sporting career started out in Saint-Tropez in 1976, on Herbert von Karajan's 'Helisara'. I then went to Florida to participate in the American Maxi Racing Circuit on board 'Kialoa 3,4,5', 'Boomerang', and 'France III' in the 1983 America's Cup in Newport, USA. I also worked for Hood sailmakers in the US part of the racing division, which involved racing on Maxi's, Multi-hulls, 12 Meters, 6 Meters, One Tonners, anything that had sails. In the mid-80's, I returned to Europe, then set off for Perth in Australia, where I worked on professional regatta yachts for several years. In 1995, I began my experience with world cruises, but again underwent training for the America's Cup, in which I competed on the yacht 'Young America'.
- Sailing has in fact been your sole occupation?
P.P.-F. - Except for a break when I flew helicopters professionally in the USA and New Zealand! Towards the end of the 'nineties, I returned to sailing, this time focusing on cruise boats, and working on the maxi sloop 'Extra Beat'. I have never had any inclination to work on motor yachts, and since the new millennium, I have devoted myself to 'Tiara'. I was initially taken on to supervise the building of the yacht, which was launched in New Zealand in 2004.
- How has the sailing industry developed over the past few years?
P.P.-F. - The most important development has been that of professionalism. Everyone who has experienced racing and regattas shares a real passion for the sport, but cruising the high seas is just as exhilarating! Even so, we have seen a need for professionalism rather than poetry over the past 15 years, taking the form of training and certificates at international level. The size of the yachts has also dictated this development: a maxi, for example, used to be 25-35 metres, whereas the 'Tiara' is 55 metres, and thus requires a completely different approach.
- How do you rate the importance of crew uniforms?
P.P.-F. - The uniform is one of the clearest ways of representing the yacht. It conveys the owner's image, but is also essential for the sense of cohesion and shared values that must exist within the crew.
… Values also shared by Dolphin Wear, in a world inspired by professionalism, teamwork, competitiveness and, of course, passion!